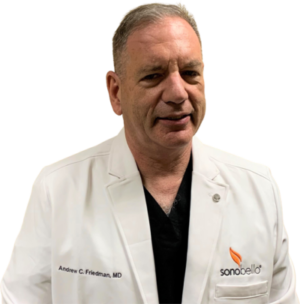 Andrew C Friedman, M.D.
Dr. Andrew Friedman is triple boarded in Plastic, Hand and General Surgery from the Boards of American Board of Plastic Surgery and American Board of Surgery. He completed his medical degree at Jacobs School of Medicine and Biomedical Science at the University of Buffalo in Buffalo, NY.
Dr. Friedman completed his internship and first residency in General surgery at SUNY Buffalo in Buffalo, NY.
He completed a second residency in Plastic surgery at Case Western Reserve University in Highland Hills, OH.
He did additional fellowship training in Hand and Microsurgery at University of Pittsburgh in Pittsburgh, PA.
Dr. Friedman is a well-respected surgeon due to his 30 years of experience. His priority is achieving high quality outcomes for his patients in the safest possible way. He strives to match patient expectations with expected clinical outcomes to have satisfied patients.
He has obtained many honors and awards including Legion of Merit (Army), Combat Medical Badge, American College of Surgeons, and American Society of Plastic Surgeons.
When Dr. Friedman is not in the operating room, he enjoys bicycling, skiing, camping, and spending time with his family.
Download PDF
Back To All Physicians