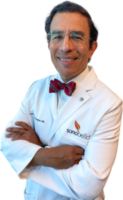 Jose Bastidas, M.D.
Dr. Jose Alberto Bastidas is board certified by the American Board of Plastic Surgery. He completed his medical degree at Rutgers Robert Wood Johnson Medical School in Piscataway Township, New Jersey.
Dr. Bastidas completed an internship in General surgery at Hospital of Saint Raphael in New Haven, Connecticut.
Dr. Bastidas completed residency in General surgery at UMDNJ in Newark, New Jersey.
He did fellowship training in Plastic surgery at Case Western Reserve University in Cleveland, Ohio. He also did training in Hand Surgery at Connecticut Combined Hand Surgery Program in Hartford, Connecticut.
Dr. Bastidas is a well-respected surgeon due to his advanced surgical skills. He believes in clinical excellence with emphasis on patient safety and satisfaction with his 25 years of experience.
A fun fact about Dr. Bastidas is he was a finisher at both the Boston Marathon and Lake Placid Ironman triathlon.
When Dr. Bastidas is not in the operating room, he enjoys outdoor sports, electronics, and woodworking.
Download PDF
Back To All Physicians