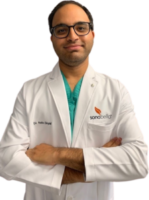 Nalin Dayal, D.O.
Dr. Nalin Dayal completed his medical degree at Lake Erie College of Osteopathic Medicine Bradenton Campus in Bradenton, Florida.
Dr. Dayal completed his internship and residency in General Surgery at Wyckoff Heights Medical Center in Brooklyn, New York.
He completed fellowship training in Cosmetic Surgery at Castellano Cosmetic Surgery Center where he was trained by the best cosmetic and plastic surgeons in Tampa, Florida.
Dr. Dayal believes Cosmetic Surgery is the ultimate blend of art and science and he is grateful for all the patient lives he has been able to transform.
He is a member of the American Academy of Cosmetic Surgery as well as the American College of Surgeons.
When Dr. Dayal is not in the operating room, he enjoys traveling, playing tennis, and cars.
Download PDF
Back To All Physicians